BASIC WASP BIOLOGY
There are many species of wasps and they can vary in color. Most are a mix of black, brown, yellow and red but it really just depends on the species. In other words, they come in many different colors. This video shows one of the more commonly seen species and was shot in the early spring.


WHY ARE WASPS A PROBLEM?
Wasps become a problem when they conflict with people. This can happen most anywhere and a wasp sting can hurt. And if you have an acute allergy to a wasp sting, the impact can be life threatening.
The most common reason for conflict is when wasps nest close to or on a home. In fact they readily like to nest on homes and will utilize areas under soffits, behind sidings or window shutters and just about anyplace which provides some type of shelter from the elements. These nests are usually small in size and population. Many times wasp nests are in cracks of wood and cannot be seen. Here the wasp will nest in between siding, insulation and any other void they can find underneath soffits, around gutters and windows.
ARE WASPS AGGRESSIVE?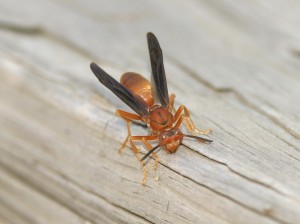 In general, most wasps will not be aggressive unless provoked. But if you see a lot of wasp activity in any given area, there is a good chance a nest is close by so keep a safe distance to avoid direct conflict. Remember too that wasps are naturally curious. Its quite common to find them flying around people since they're attracted to moisture and sweet odors. Also, most wasps have good eyes and will catch you approaching once you get within 10 feet of them.
WHAT ODOR ATTRACTS WASPS?
Wasps will readily fly toward sweat, perfume, food, flowers, dead insects and other things commonly found around the home. In fact, wasps can become quite a pest – even if you are just trying to sit out on your deck or around the pool. For this reason they are generally considered to be a pest when active around the home and most people don't like seeing them when outside.
HOW TO REDUCE WASPS AROUND THE HOME
So the simplest way to deal directly with any wasp issue in or around the home is the use of a HAND HELD ZAPPER. This device is great for all types of insects like mosquitoes, flies and spiders but is particularly effective on wasps. Simply touch the electric grid to any wasp and it will instantly die from the mild electrocution. This "Electric Swatter" is quite effective and since you don't actually "swat" the target, there is no mess.

WASP REPELLENTS
To keep wasps off the home, try using a visual deterrent as well as wasp repellent spray and dust.
First, installing FAKE WASP NESTS in areas where wasps are foraging will drive them elsewhere as long as these are installed in early spring. These nests look like the real thing and wasps will generally avoid any territory which is inhabited by other wasps.



These fake nests pose no hazard to people or pets and can be hung from any piece of furniture, tree or plant. Set at least one out for every 5000 sq/ft of yard and they will help minimize the local wasp activity too.
LIQUID SPRAY WASP REPELLENTS
For better results, use a spray or dust. We have two spray options that wasps don't like and when applied to the home, they'll detect its present and stay away.
The first is NBS which uses essential plant oils as its active. These ingredients are highly repellent to insects like carpenter bees, wasps and ants. This product can be sprayed on surfaces or added to paint or stain. When mixed with paint or stain, it's able to "lock in" and provide a year or more of protection. When used as a spray, it will last 30 days keeping away most any insect pest including wasps. Keep in mind is essentially an "organic" approach as the NBS will not kill or impact any insect; it will just repel them from the area.
To use as a spray, add 3 oz per gallon of water and spray the mixture over 500 sq/ft of surface area once a month. When added to paint or exterior stain, add 16 oz to every 5 gallons of paint or stain and use every time you apply a new coat.

If you want something stronger, go with CYPERMETHRIN. This is a traditional pesticide and will do a better job of repelling them. Treatments will last longer too. Mix 1 oz per gallon of water and spray over 500 sq/ft of surface area. Expect to get 30-45 days of protection per treatment and renew the application during the spring, summer and fall.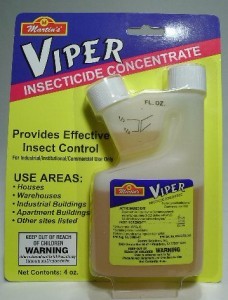 DUST IS THE LONGEST LASTING WASP REPELLENT
Now as good as Cypermethrin is at repelling wasps, DRIONE DUST is even better. Considered to be "the best" because a single treatment can last a year or more, Drione is highly repellent to most any insect and therefore where Drione is applied, insects will not go. For this reason Drione is ideally suited for pests like wasps.
To use Drione effectively for wasps, you'll want to get some into every crack and crevice you can find on the home. Typically this will be up under siding, along facia boards, behind gutters, behind shutters, around window frames, etc. If the home has vinyl or aluminum siding, you'll want to get some dust behind the siding too.


As you can tell from the video above, the dust naturally finds it's way into cracks, crevices and voids where wasps like to nest and roost. It will cling to surfaces making it impossible for wasps to walk or use the area forcing them to go elsewhere. A great place to apply it is through cracks and seams of decks. Though these small gaps may look too tight for any insect to enter, they actually make prime locations for many pests to hide and make nests.
Drione goes a long way too. The average 2500 sq/ft home would expect to need just 1-2 lbs of dust applied to its exterior. So if the home is mostly brick or stucco and you only have trim areas to treat, 1 lb will be plenty. But if the home uses some kind of siding like vinyl or cedar shakes, expect to use 2 lbs or more. Be sure to get all cracks and crevices when dusting don't worry about any dust left on surfaces after being applied. It will naturally blow away over time and won't be a hazard.
To apply the drione, you'll need a good duster. We have several options available. The simplest is used in your hand and designed for when the treatment is within reach. This duster is easy to use and is considered a standard for anyone doing regular pest control. The CRUSADER has been around a long time and comes with both a 6″ and 12″ long extension.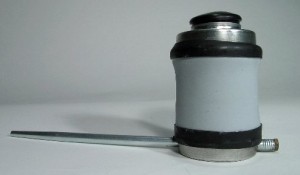 Since facia boards, gutters, roof lines and most any type of siding can provide similar ideal nest locations, you may have to reach up 10 feet or more. To help do the work without having to climb a ladder, consider any of the following dusters.
The first is the DUST-R . This model has a large dust canister and because of its length, will let you reach 3-4 feet up and above will reach up is ideal for when you have a lot of treating to do. It features a large dust tank which cuts down on how much time you need to spend filling it.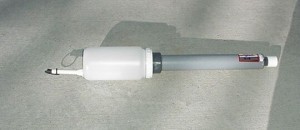 If you need higher reach, the LONG REACH DUST-R might be the better choice. It's essentially the same unit as the Dust-R but it comes with a series of extensions which enable the applicator to reach over 12 feet up while standing on the ground. Of course you can use it while standing on a ladder for additional coverage.

For the highest reach, the DUSTICK is the ideal tool for the job. It features 4 extensions which can be used one at a time or all together. Combined with the dust canister on top and the pump assembly on the bottom, you will be able to treat locations over 25 feet high while standing on the ground. When you have a lot of facia boards and trim on the home and wasps are penetrating through such locations, Drione Dust applied with one of these dusters is the best bet for long term control. It will kill them on contact as well as repel them so they don't return. It's also strong enough to dry up the eggs as well as the pupae stages so it's worth covering as much area as possible when treating. Remember, Drione dust lasts a long time and will stay in the void providing wasp control for several months. And since it will control just about any pest, it's by far the best, long lasting product to apply around the home for all kinds of pest control. No doubt it takes a bit more work to use it but in the end, dusting is well worth the effort.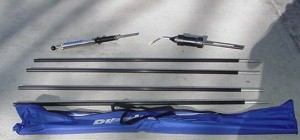 In fact fall treatments for wasps are important since many species will hibernate on structures like homes and sheds. The following spring they will emerge and tend to start new colonies in areas close to where they over winter and hibernate. If you have seen a lot of wasps collecting on the outside of your building in any fall, it would be smart to prevent this from happening in the future by treating with Drione. This is the only way to stop future invasions because once this pattern starts, it won't stop. In other words, it will get worse and worse from year to year because wasps will be "scenting" your home (leaving pheromones) that will attract more wasps. The following video shows what this looks like when fall arrives and wasps start to "gather" for winter hibernation.


WASPS IN THE ATTIC?
No doubt attic spaces will be used by wasps too so if you want to keep them out of this area, apply Drione using DUSTIN MIZER. This tool will let you blow the dust out over the space effectively blanketing all surfaces without having to do much walking. The Dustin Mizer will project the dust 20 feet or more and since Drione will last at least a year, you only need to apply it once a season.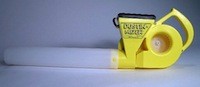 HOW TO TREAT AN ACTIVE WASP NEST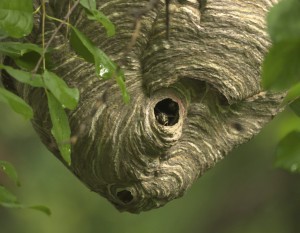 If you have active nests in a tree or on the home, there are a few ways they can be treated. The most common way is to use a hornet and wasp freeze. When nests are visible and easy to reach, this can be effective. Be sure to use a strong formulation – especially when dealing with Bald Faced Hornets.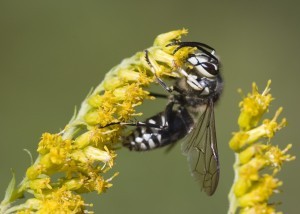 In fact Bald Faced hornets are actually wasps too. They are black with white or yellow stripes around their thorax and abdomen. They're about one inch long, can fly very fast and can get quite aggressive if you get close to their nest. Bald faced hornets create a large football shaped nest which is grey and oval. It ranges from softball to beach ball size and nests can form from early summer right through to fall.

These nests are made from cellulose (wood and plant material) and are quite strong as well as weatherproof. Likely nest sights include trees, shrubs and around overhangs of buildings. If you can get within 10 feet of the nest, you should be able to treat it with the WASP FREEZE. But to be safe, liquid treating with CYPERMETHRIN and SPREADER STICKER is the way to go.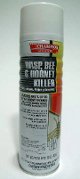 Now if you can't reach the nest well with the freeze, go with Cypermethrin and Spreader Sticker. Add 1 oz of Cypermethrin and 1 oz of Spreader Sticker per gallon of water and using a good PUMP SPRAYER, saturate the nest in the evening just before dark.
Cypermethrin is strong enough to knock down any wasp but if you still see activity the day after you treat, do another application the following night.
Be sure to add 1 oz of Spreader Sticker to the tank mix. This material helps the Cypermethrin penetrate and "spread" much faster leading to a faster death of all treated pests.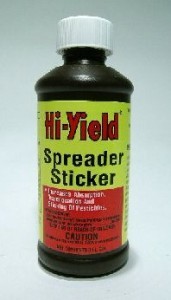 You will need a good PUMP SPRAYER to make the application when treating nests and our heavy duty sprayer can reach up 20 feet or more when using the pin stream tip insert.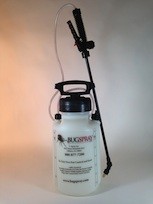 For even higher reach, use a HOSE END SPRAYER. This uses the power of your garden hose to reach up 25 feet or more and can really "blast" the nest full of chemical. When treating with Cypermethrin and a hose end, add 2 oz of Cypermethrin, 2 oz of Spreader Sticker and add enough water so the sprayer is filled to about the 2.5 gallon line. This would be about 1/8th full. Next, hook it to your hose and use the entire contents on the nest. Do the treatment at night to insure the nest is at rest when treating.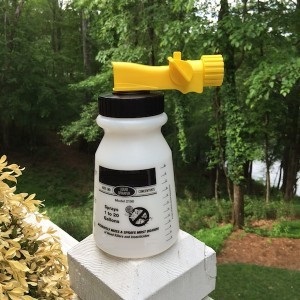 When done properly, the nest will be shut down in an hour or less. The following video clip shows how they react to the treatment.


HOW TO TREAT A HIDDEN WASP NEST
For nests that are hidden under the siding of the home or in the nook of a tree, you'll be best served using a "non repellent" spray. These unique chemicals are undetectable by target insects so they won't know the treatment is present. These options don't work quickly; in fact they'll take 4-6 days to completely work. But they're highly effective and ideally suited for when you have nests well hidden and don't want to risk spooking the wasps into your living space.
We have two formulations that can be used. For 1-2 nests which are within reach, PHANTOM AEROSOL is a good option. You'll want to make your treatment at night, just before dark, and you'll want to spray the entrance hole for 10-15 seconds and then quickly leave the area. In most cases, the wasps won't have time to react and since they don't know they're being sprayed with chemical, they won't get too bothered. But one treatment won't be enough so you'll need to do the same treatment the next night and then again, one more time, on the third night.
Once you start treating, the wasps will in turn start carrying the product into their nest no matter how deep it might be. This will happen as they naturally move in and out of their nest in the days following the first application. To insure enough chemical enters the nest, you need to make 3 treatments over the course of three evenings but by the 3-4 days, you'll start to notice a big decrease in their activity. And by the 4-5th day, the nest will be dead.
One can of Phantom is enough to treat several nests and since it can be used inside the home too on a wide range of other pests, its a good product to have for all types of applications.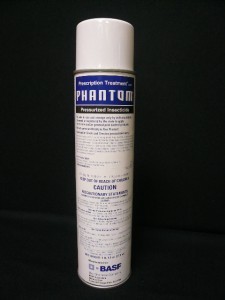 Since you need to be within 1-2 feet of the nest to make a good application, you may need an AEROSOL POLE to help deliver it where needed. This pole will allow you to reach up over 20 feet and extra 4 FOOT EXTENSIONS can be purchased as needed. The tool is easy to use; simply affix the aerosol on top and then slide it up the side of the home adding extensions as needed until you can reach the nest to treat.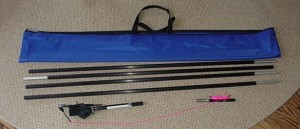 If you have several nests to treat or would prefer to use a liquid, we have a non repellent concentrate known as OPTIGARD that will do the job just as well. Using a PUMP SPRAYER or HOSE END SPRAYER, this concentrate can be mixed with water and then sprayed onto their entrance holes just like the Phantom. Do this 2-3 nights in a row and after 4-5 days, the nests should be shut down for good.
For wasp treatments, you'll need to add 1/2 oz of Optigard per gallon of water and spray entrance areas for 10-20 seconds per night right at dark. Repeat for 3 nights in a row and the nests will be shut down in 3-5 days. Optigard can be used on trees, shrubs and flowers too if you want to keep wasps off these surfaces without knowing where a nest might be located.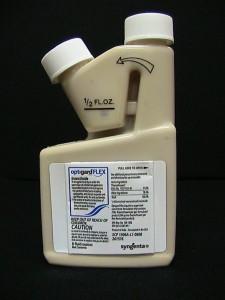 HOW TO TREAT AROUND POOLS AND JACUZZIS FOR WASPS
If you are a pool owner or have some other body of water close by the property, you may have noticed local wasps coming around to get a drink. And if it's been hot or dry where you live or if you have a bird bath or other water supply, expect wasps to find your "offering". As moisture evaporates into the air, wasps and other insects will detect it's presence. This will attract them to the area and once found, "word" will be out on the street attracting other insects and more wasps. In other words, expect more and more of the local population of wasps and other insects to come around if your yard is providing some water when local areas are dry.
Dealing with such invasions difficult but there are some treatments that can help reduce this activity.
No doubt the best way to stop wasps or bees from visiting your pool or jacuzzi is to treat the water with KILL IT ALGAECIDE. This product is generally used to control algae but it will also repel wasps, bees and any insect from drinking your water. This repellency action happens because Kill It reduces the surface tension of the pool water making it impossible for insects to land. Now if they try, they'll sink so they will avoid water protected by Kill It. Add some weekly during the summer months when wasps, bees and other insects are annoying you in the pool and they'll stay away.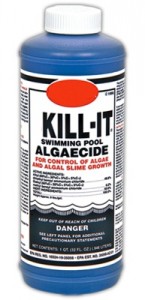 WHAT ABOUT WASPS INSIDE THE HOME?
Now if you have been seeing wasps on your home and you don't kill them before they move under siding and into the wall voids, there is no doubt you'll be seeing them inside. This can happen in the summer but its actually quite common in the winter too. In the cold months, wasps that moved onto your home the past fall which were not treated or repelled will move inside seeking the warm temperatures.
Typically they'll emerge and remain quiet for a day or two hanging around a window or ledge. Any that are seen can be sprayed with the PHANTOM listed above. It won't spook them but after 2-3 days, it will kill them. Treat any area you find them landing when active in the winter and renew treatments once a month as long as you continue to find dead wasps once you start treating. This insures you'll have a good treatment in place to control any new ones that emerge throughout the cold winter months.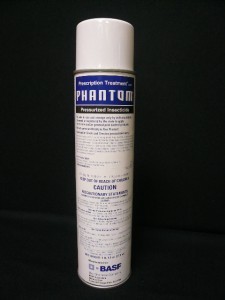 TREAT IN THE FALL AND SPRING TO KEEP WASPS AWAY FOR GOOD
Wasps and Bald Faced Hornets can be frightening. Dust the exterior of the home once in the spring to prevent them from moving in and using your home for a nest site or winter haven. And when wasp nests are found, keep people away to prevent anyone from getting stung. Treat nests at night for quick and complete control and remove the nest once all activity ceases.
CONTACT US
Give us a call if you need further help. Our toll free is 1-800-877-7290 and we're open Monday through Thursday, 8:00 AM to 7:00 PM. On Friday, 8:30 AM to 5:00 PM and on Saturday, 9:00 AM to 2:00 PM (Eastern Standard Time).
Email questions here: http://www.bugspray.com/about-us/contact-us
Order online and get a 5% discount! We ship fast with 99.9% of all orders shipping within 1 business day!!


Learn more about BUGSPRAY.COM and why it's never been easier or safer to do your own pest control.


Please show your support for our business by purchasing the items we recommend from the links provided. Remember, this is the only way we can stay around to answer your questions and keep this valuable web site up and running. Thanks for your business!